What is a demo account?
Many people do not dare to start making money on the Internet for a very long time because of a psychological barrier. Some do not believe in themselves, others simply do not understand how it works and are afraid to make a mistake. In such situations, it will be quite useful to use a demo account where you can practice, overcome fear and choose the right strategy. All traders are encouraged to use a demo account as their first account in order to get a feel for what trading in the forex market looks like, as well as to get used to the broker and trading platform they use. Basically, a demo account allows traders to test their trading skills as well as enjoy the other enticing benefits of demo trading.
How does demo account work?
The IQ Option demo account is a trading simulator. It allows:
Master the operation of the trading terminal.
Get basic knowledge about the subject of investment.
Assess the quality of service from a brokerage company.
Understand how quickly technical support works.
Try different trading and investing strategies.
There is also a video training for beginners on various topics available for you on the platform, which, along with a demo account, will simplify your first steps in trading.
A novice trader can learn to manage the emotions that inevitably arise with both positive and negative trading results.
Such a tool allows you to study the technical side of the process and understand how to use the software, in other words, which buttons to press to make a deal.
The IQ Option demo account uses virtual money to trade, which allows you to try on the role of a trader without risking your own capital.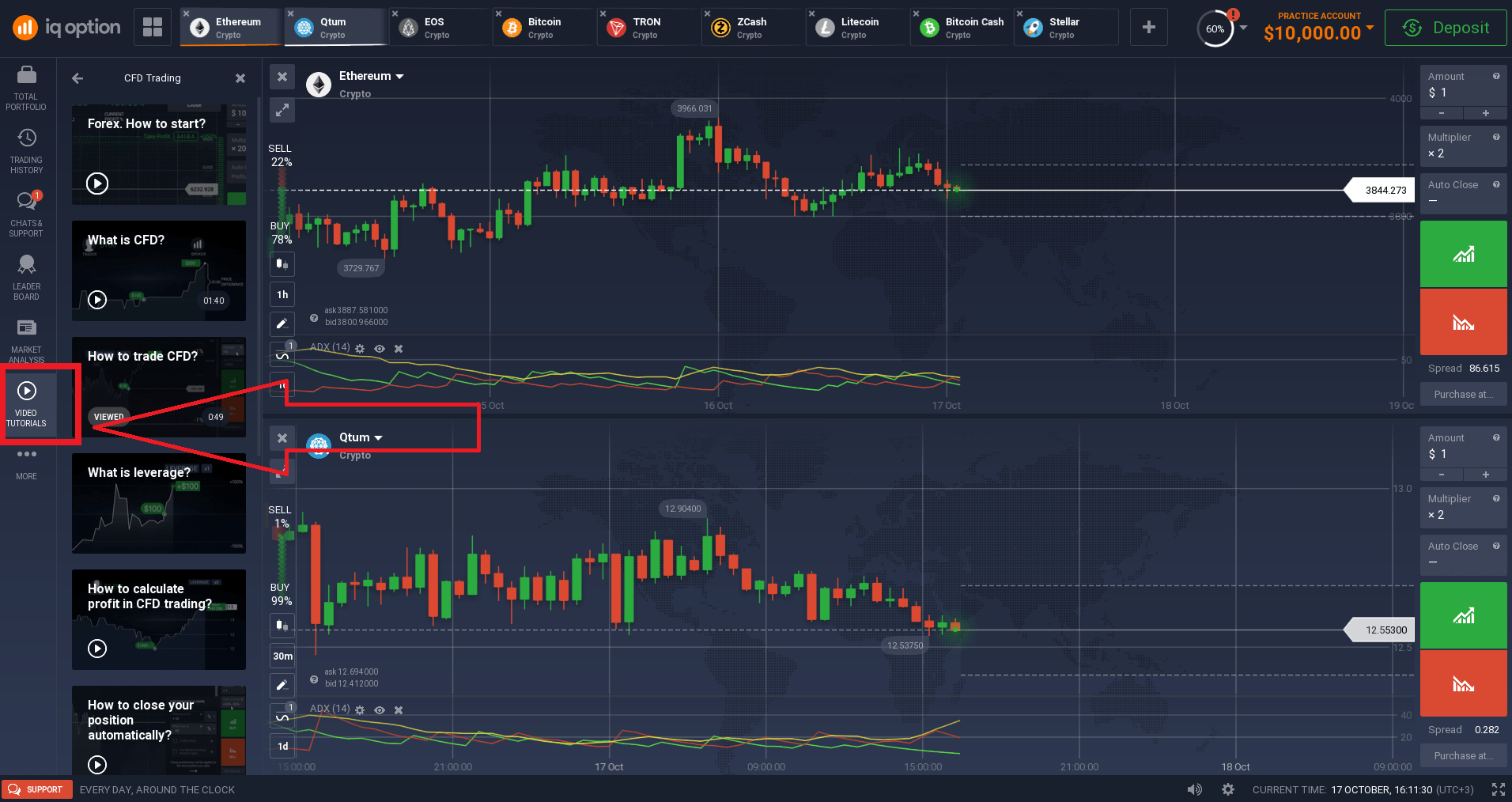 Demo account features and limitations
Some brokers give a restriction on the use of a free demo account. For example, op sum or time. You may also encounter limited assets, in other words you can only train on 10 assets.
Demo IQ Option has no such restrictions, and you work in an absolutely real environment, you have access to all the advantages of the platform.
How to use a demo account ?
So, the demo account IQ Option offers you the following benefits:
Various trading instruments including CFDs.
Complete technical analysis.
Over 250 major assets to trade.
Chat with traders.
Leverage function.
Licensed verified broker.
Actual quotes and news directly on the platform.
Сonvenient withdrawal of funds in several ways, etc
When switching to a real account, a pleasant moment will be that transactions on a real account are carried out from $ 1.
TRY ACCOUNT FOR FREE AND SEE FOR YOURSELF THE CONVENIENCE OF THE PLATFORM!
How to register IQ Option demo account
So, how to open demo account in IQ Option? The first thing you need to do to start your cooperation with a broker is to register an account.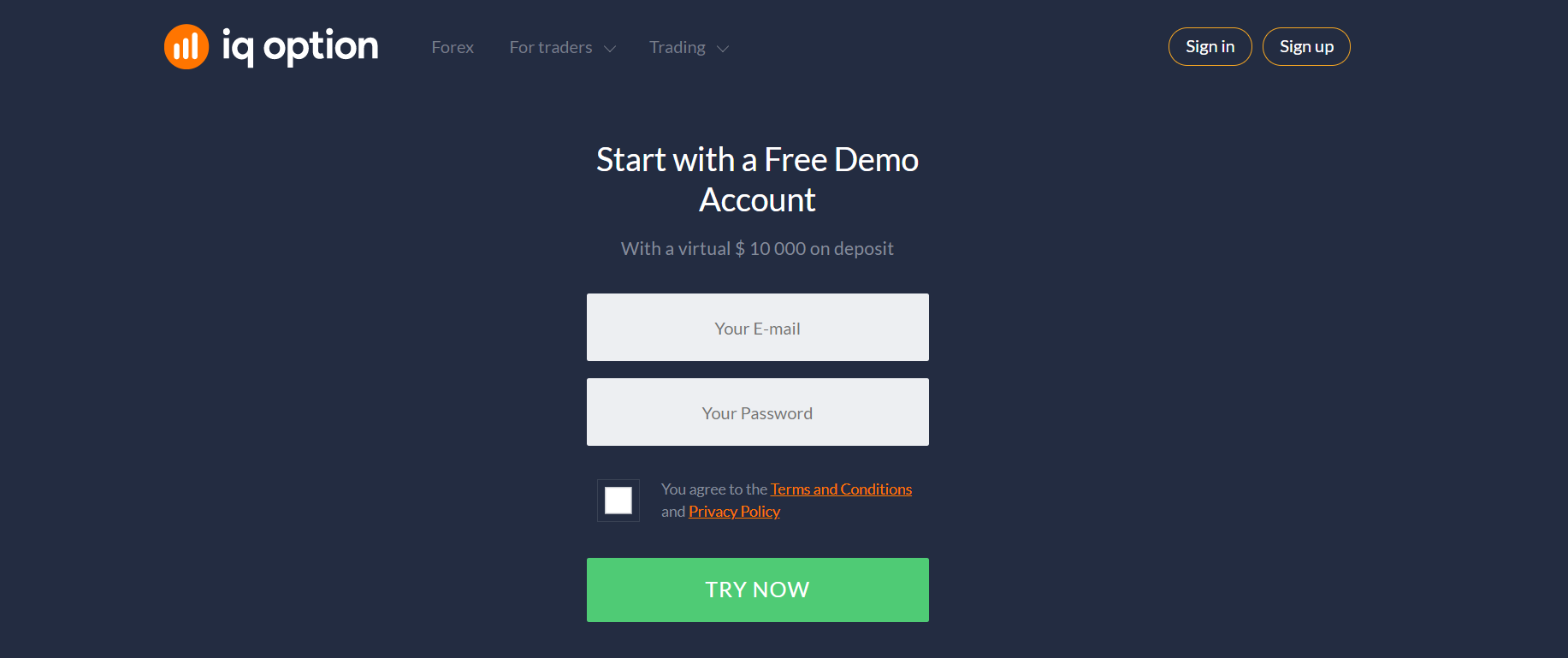 Register on the broker's website, or follow the link above, enter your email in the login field. Your IQ Option demo account login will be saved in the system if you make a note about it. Then enter a strong password containing various symbols and numbers.
The next step is to read the "Terms and Conditions" and confirm your age by ticking the appropriate box. After the operation is completed, the "open an account for free" button becomes available. By activating it, the client receives data to access the demo and real accounts.
In this field, indicate that you want to trade on a virtual account with funds in the amount of $10,000. They will automatically appear on your balance, you do not need to do anything for this.
The system will redirect you to the trading terminal. IQ Option demo account sign up is ready! You can try the first trade. You do not need to enter into an agreement and deposit real money to trade on a demo.
For convenience, it is recommended to download the trading platform for a PC or smartphone from the official website for free. Enter IQ Option demo login into the application and use all the functions of IQ Option demo account to the maximum!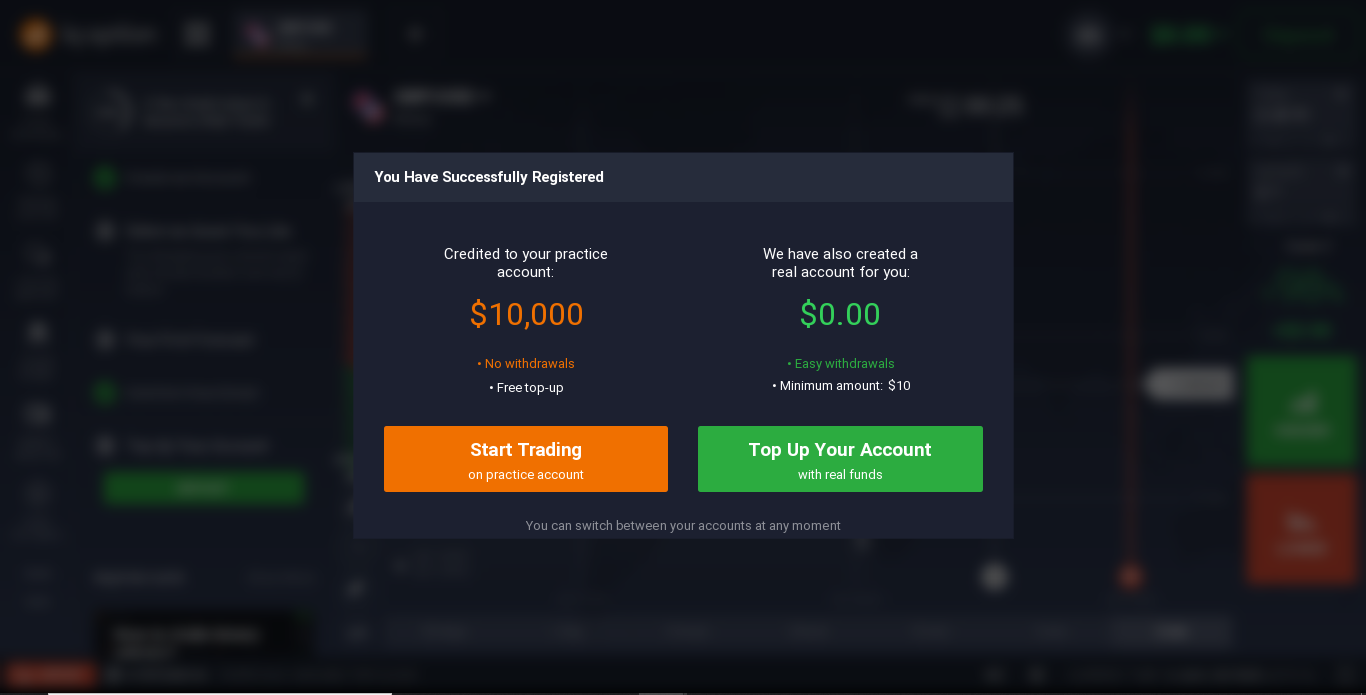 If you want to open a real account, you will need to select the real account menu, go through the verification procedure, and replenish your account. A great advantage is that the MINIMUM DEPOSIT is ONLY $10! You can replenish your account instantly in various ways, including a bank card, crypto wallet, bank transfer, electronic money system, etc.
When to start real trading?
It is impossible to accurately calculate the amount of time it will take for a particular person to transition to real trading. Here are the main factors that indicate that the transition is possible:
Experience and knowledge of the basics of trading.
The trader has studied the possibilities of the broker and the trading conditions offered by him.
A trading strategy has been selected and tested, there is an understanding of what the volume of transactions should be, based on the available deposit.
The number of profitable trades exceeds losing ones.
A trader knows how to control his emotions.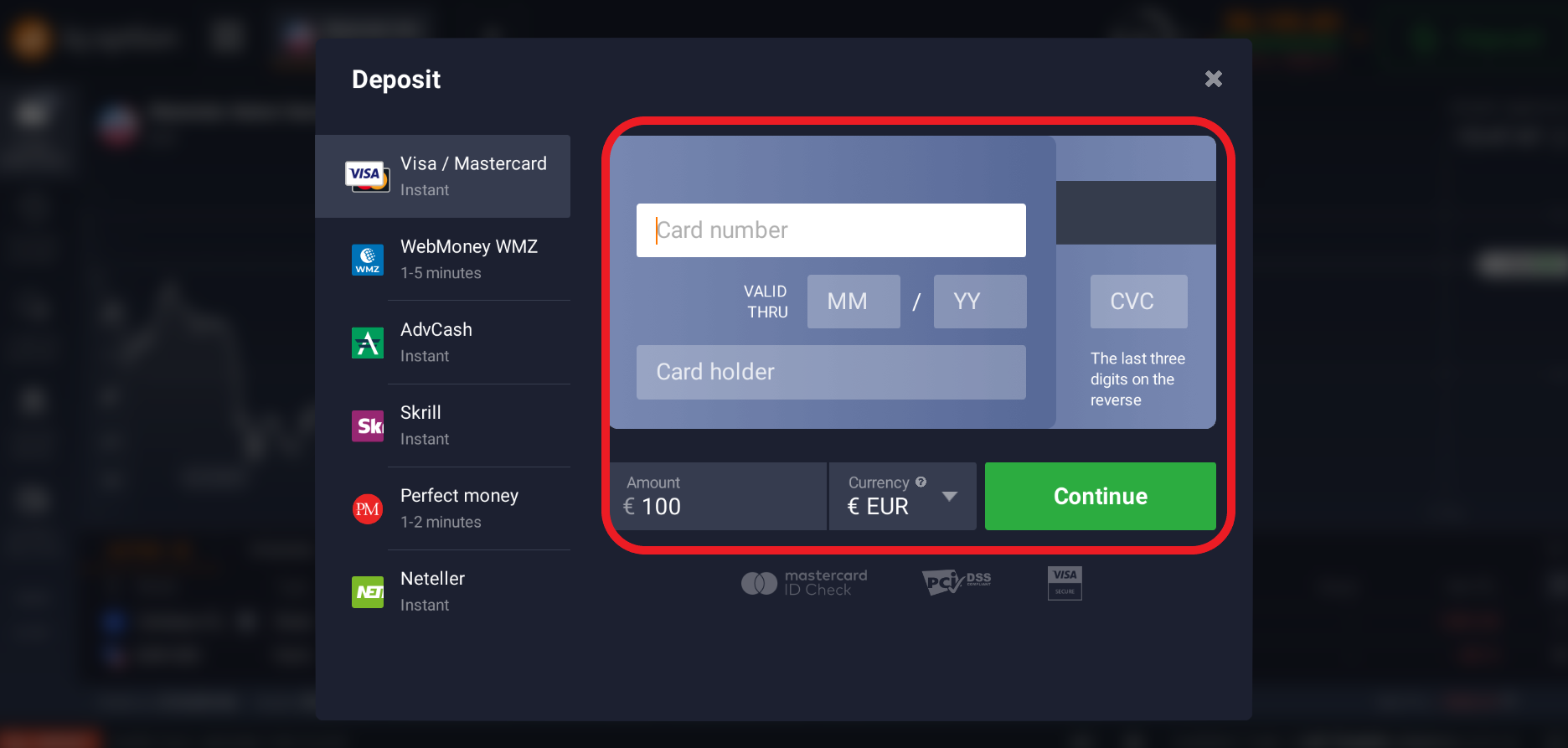 Many novice traders often wonder when to start trading for real money? The answer to this question depends entirely on the accumulated experience in trading. How can you get this experience? The answer is obvious - with the help of trading on the IQ Option free demo account! TRY DEMO! You have nothing to lose!
Devices on which you can trade
IQ Option free demo is used on a unique platform, which is a software product developed by leading specialists of the company. You can use IQ Option login demo on different systems:
In the browser;
On a terminal previously downloaded and installed on a computer device;
On the software mobile application downloaded to the smartphone.
The functionality of applications or a browser differs little, while trading in a PC application remains the most popular and convenient.
Assets
Choosing a trading instrument, especially for a novice investor, can be a difficult task. IQ Option demo account will help you practice analyzing different assets without risk. The market offers a wide variety of assets. Nevertheless, not all trading assets are equally popular with traders. There is a certain "base" of assets, which is most often used by market participants. IQ Option free demo account allows you to use CFDs and Forex tools.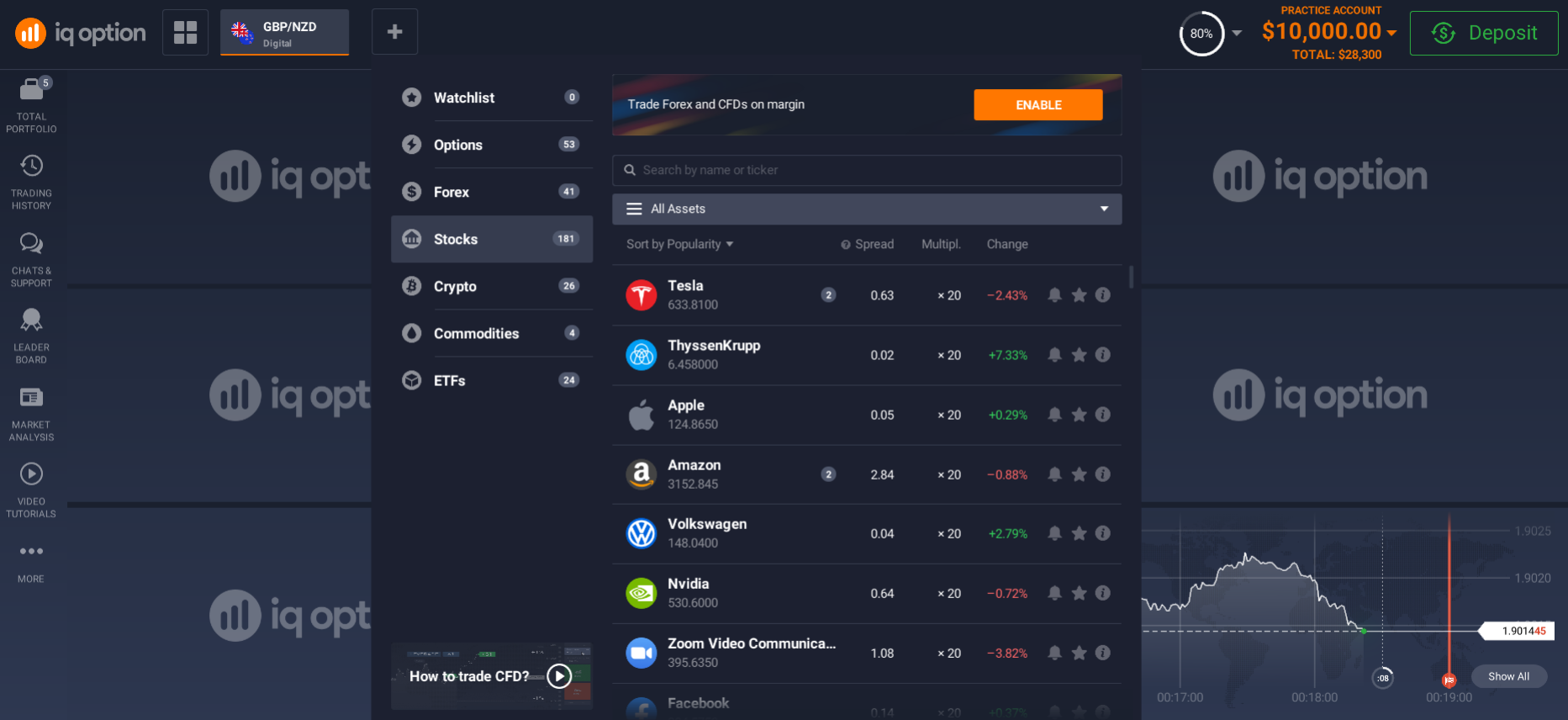 Forex
Currency pairs are the main assets for trading on the exchange, which traders buy and sell for profit. Each currency pair consists of two parts - two types of currencies that are traded one against the other, interacting. To make trading in currency pairs profitable, you need to work on market analysis. Experts recommend opting for fundamental analysis, taking into account the news planned in the economic calendar.
Stocks
Share CFD means a contract for difference in share prices. In simple terms, it is a financial instrument with which a trader invests in a change in the price of a stock. You do not become the owner of the securities, you benefit from the change in value. More than 100 different companies with world names are represented on the site.
Commodities
Speculative trading in commodities provides the investor with another opportunity to earn. Such goods are often the resources that support the world economy, and any change in it provokes fluctuations in the prices of raw materials. The company offers trading in the most demanded commodity assets such as gold, silver and oil.
Indices
Indices differ significantly from all other trading assets on the stock exchange. This is nothing more than a characteristic of the value of individual sectors of the economy. Simply put, this or that index shows the average value of the assets included in a particular sector of the economy. The price change also serves as a profit tool for the trader.
ETF
An ETF is an exchange-traded fund that invests in certain groups of assets. In other words, it is a basket with shares of different companies. An ETF is an exchange-traded instrument whose shares are very easy to buy. ETF liquidity is quite high, so you can buy and sell shares of the fund at any time during the trading session.
Charting Tools
One of the important features that the IQ Option platform presents to the trader is the ability to leave your marks and designations on a live chart. In other words, use technical analysis.
The platform allows you to use a full set of tools on a demo account, from the most popular to rare indicators, as well as graphical tools and charts at your disposal.

How to reset IQ Option demo account?
What makes this broker stand out is that you can make IQ Option demo account reset and fund your account over and over again.
To do IQ Option reset demo account, click on the icon to the right of your virtual balance on the main screen "update" and the amount will be replenished again up to $10,000.
At the same time, you should not delay with such training, because no matter how convenient and close to real conditions a demo account is, nothing can replace the real investment experience. Let it be the smallest amount, but this way you will get much more knowledge and skills.
How to switch from IQ Option demo to a real account?
To switch from one account to another, just click on your account balance at the top of the screen, after which a window will appear with an account selection, click on the real one and the account switches. If there are no funds on your real account, you can immediately replenish it in a convenient way.
SIMPLE AND RELIABLE
MONEY WITHDRAWAL
SHOW ALL