What is Shiba Inu (SHIB)?
Thanks to the creation of virtual money, a new cryptocurrency market and an entire industry with a capitalization of more than $2 trillion have formed. Thousands of decentralized applications are being built on the basis of existing blockchains. Thus, now we can observe a large-scale implementation of what 30 years ago was just an idea. ShibaSwap is a decentralized exchange with the Shiba token. Although the token itself was created before the platform.
The fundamental difference between a token and a cryptocurrency is the presence of an issuer. Cryptocurrency is issued through mining. The emission of cryptocurrency is completely decentralized, and anyone can take part in it. A specific organization is responsible for issuing tokens. Tokens are analogous to securities.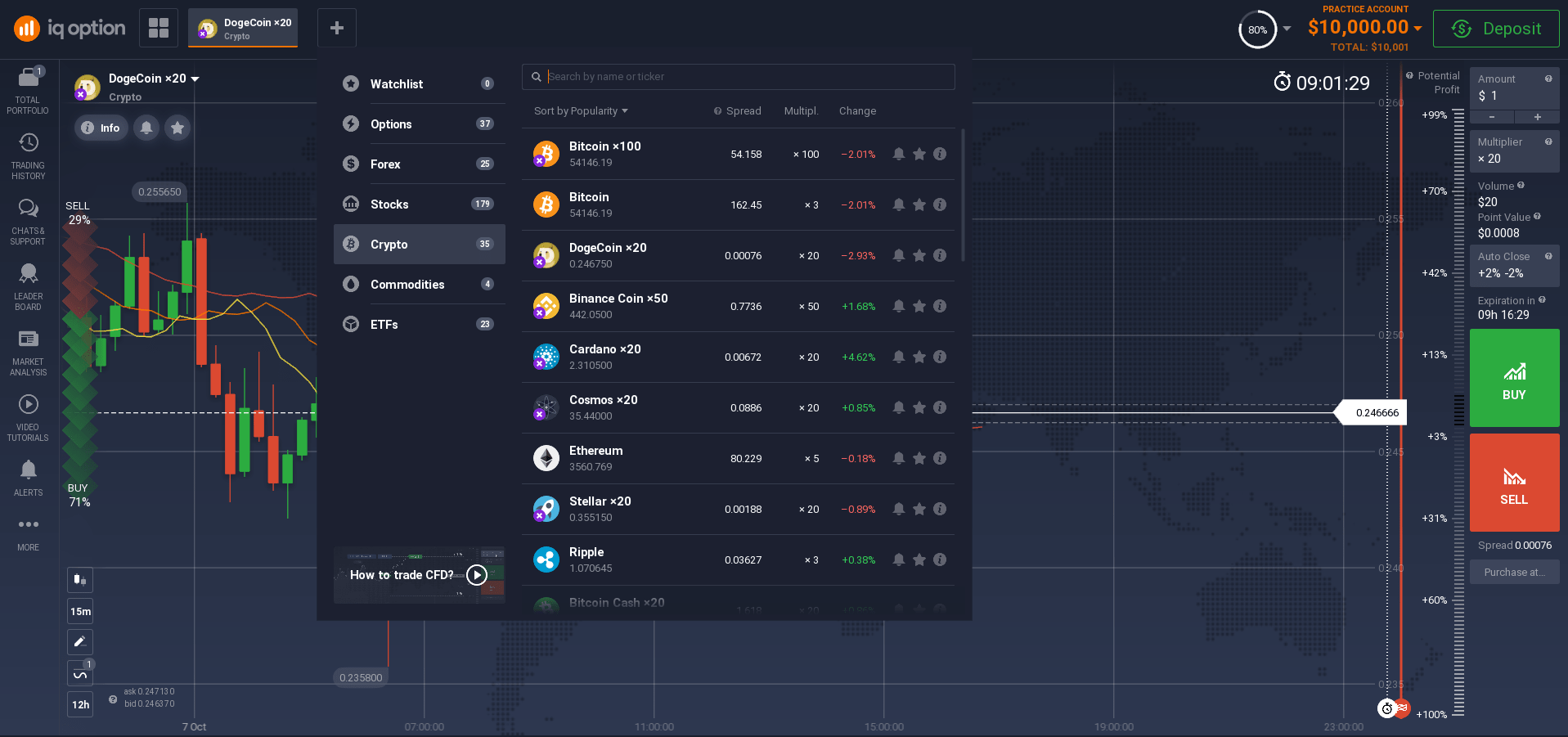 Today, cryptocurrencies are of interest not only among ordinary users who want to make money transfers quickly, anonymously and without bank fees, but also among players of stock and currency exchanges, and among large investment companies. For investors, popular cryptocurrencies represent a promising investment product that promises stable, high profits in the future. What is the reason for the confidence of leading traders that investments in cryptocurrency will bring income? And in what ways can you invest in this virtual money?
Optimistic predictions about the prospects for cryptocurrency are based on solid facts. And the main arguments why investing in cryptocurrency will be profitable are:
Security of cryptocurrencies from inflation.
Independence of digital currencies from governments and banking systems.
High security of cryptocurrency systems from hacker attacks and hacks.
Stable growing (on an annual basis) rates of highly liquid cryptocurrencies.
High level of trust in highly liquid cryptocurrencies.
Where do Shiba come from?
SHIB is one of the latest tokens to hit the market. An anonymous development team called it "an experiment in decentralized, spontaneous community-building." They declared the project a viable alternative to Doge, and even its killer.
SHIB is an ERC-20 token, which means that this currency is built using the Ethereum network.
In the summer of 2021, a team of independent developers led by Ryoshi created their own DEX exchange ShibaSwap. The service offers several decentralized finance (DeFi) tools:
Trading through an automatic market maker (AMM).
Liquidity pools.
Farming.
Stacking.
The ShibaSwap ecosystem is based on 3 ERC-20 tokens: SHIB (SHIBA INU project), LEASH and BONE. The SHIB token is the main asset used for trading, settlement and storage on wallets. SHIB is getting a lot of attention now. This is largely due to the exorbitant rise in token prices. Since many traders tend to buy Shiba inu while the price is low.
The goal and purpose of ShibaSwap is to create a secure environment in which cryptocurrencies can be traded. The team emphasizes that the system is completely decentralized, as their loyalty rests with the holders of SHIB tokens.
What makes Shiba Inu unique?
The main goal of the SHIBA project was to create an ERC-20 token at a low enough price that anyone could purchase millions of pieces. The developers deliberately set its cost well below one cent. The strategy is to make the project profitable by increasing the altcoin price to $0.01.
Besides the chance to make money, Shiba inu is designed to bring attention to cryptocurrencies. When people see the adorable Japanese Shiba Inu, it creates a positive attitude.
The meme token market has become very popular recently. Thanks to a steady stream of positive feedback from celebrities, some meme coins have achieved record growth, and many seasoned investors are starting to buy Shiba for the long term. However, they don't carry any technological innovation. It is more of a social phenomenon.
How to Buy Shiba (SHIB)?
The main feature and characteristic feature of cryptocurrencies is that, unlike any classical investment instruments, they are in reality not supported by anything and are not controlled in any way.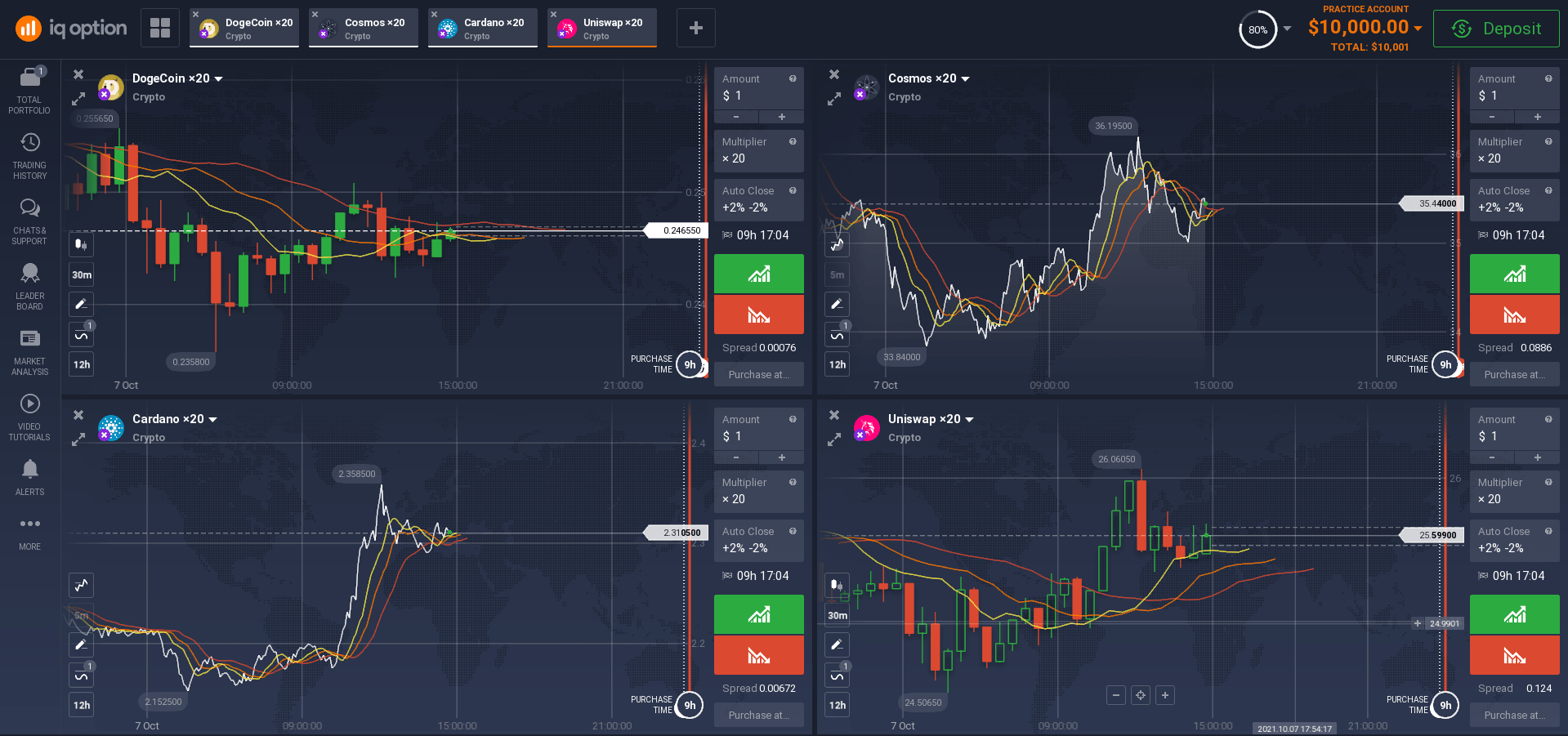 This fact is responsible for the high volatility inherent in digital currencies, i.e. exchange rate fluctuations. Both relatively natural factors (release of updates) and artificial (news, mood of market players, trends, etc.) can affect the cost of cryptocoins.
You need to invest in the electronic currency that meets your requests, needs and based on what you plan to receive from it. Of course, this should be a cryptocurrency, in the prospects of which you have no doubt. For example, you can buy SHIB due to the fact that it has a low price and development prospects within its platform.
Shiba Inu is one of the most hype cryptocurrencies in recent years. Many members of the crypto community view the coin as an effective investment and portfolio hedging tool.
First of all, cryptocurrencies should be fairly simple and straightforward, and the mechanisms for exchanging and withdrawing funds should not be resource-intensive, that is, should not take much time. This means that the project must be not only promising, but also with the introduction of unique technologies and innovative solutions. A project that gives or will give in the near future good earning opportunities.
Where to buy Shiba Inu in the UAE?
There are several options for how you can buy Shiba in the UAE. One option is a centralized crypto exchange, they usually offer many currency pairs, including digital and fiat money. For example, the Binance exchange.
You can trade on cryptocurrency exchanges in the same way as on stock exchanges, making a profit due to rate fluctuations. In this sense, digital currency exchanges are more profitable because the volatility of cryptocurrencies is higher than that of securities.
For example, in the stock market, a trader made a profit by increasing the stock price by 5%. In the cryptocurrency market, he can earn much more, since the cryptocurrency can grow by 30% per day. Naturally, in order to conduct profitable transactions with cryptocurrencies, you must have the necessary knowledge and experience.
Some traders trade simultaneously on several stock exchanges, earning not only on rate fluctuations within one exchange, but also on their difference on individual exchanges.
How to Invest in Shiba?
Cryptocurrency exchanges can be used not only for trading, but also for buying currency there for investment purposes. Compared to traders, investors are more passive.
They periodically buy cryptocurrency on exchanges for their investment portfolio, monitor changes in rates, but are in no hurry to sell currency immediately at the slightest increase in its price, counting on a significant rise in price in the future. It is better to store the purchased currency in your cryptocurrency wallet.
How to buy Shiba on the brokerage platform?
A popular method of making money on cryptocurrency is trading through a brokerage platform. A broker is a link between the parties to the transaction, which provides access to trading through a special platform. When choosing a brokerage firm, it is especially important to pay attention to trading conditions and quality of services.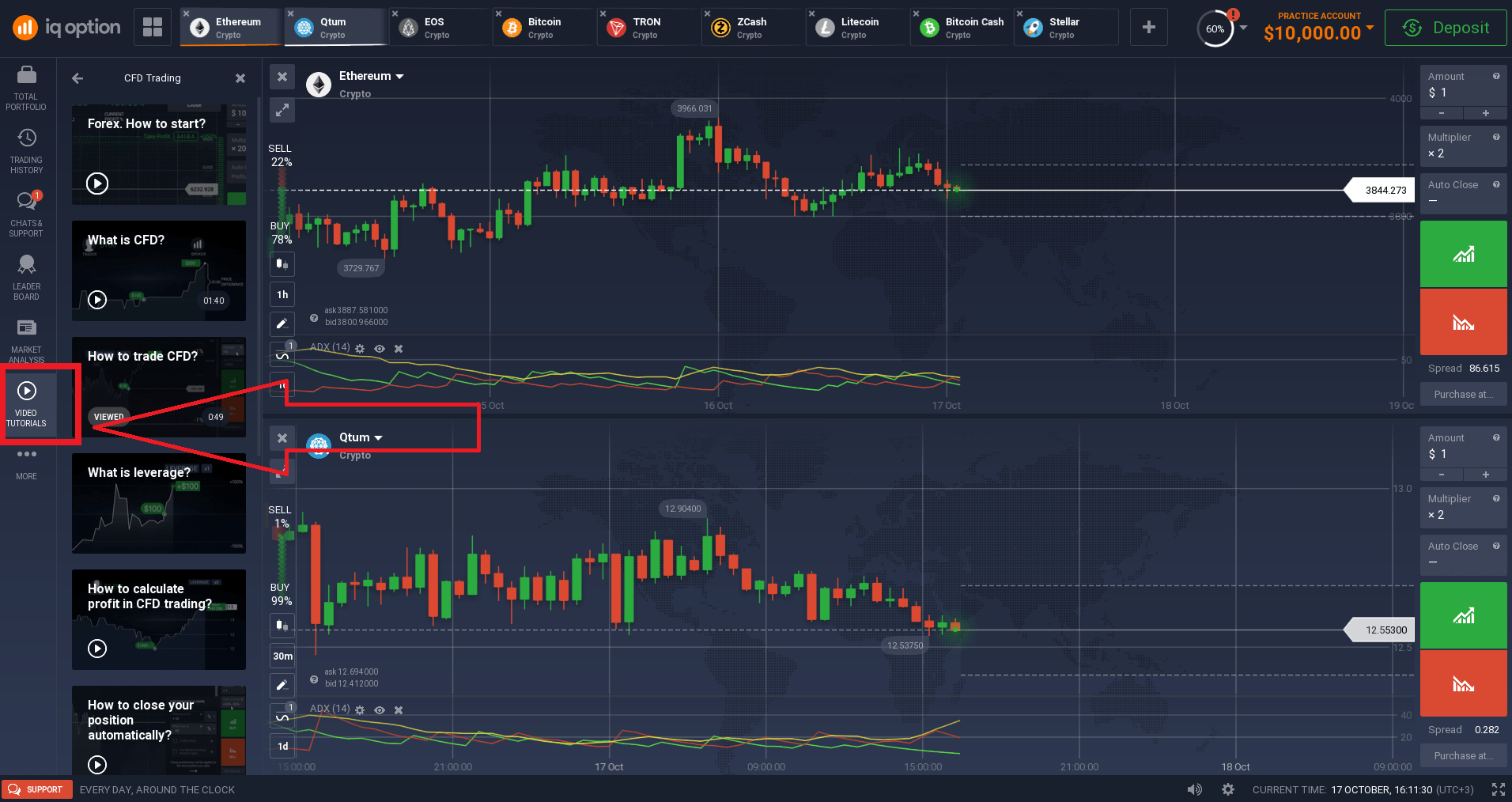 To check the reliability of the company, you can replenish your deposit account with a small amount and carry out several small transactions.
You can even try trading for free on a demo account. Do it now!
The difference from a regular exchange is that you do not buy the asset itself, but enter into a contract for the price difference, this is called a CFD.
A CFD is a price difference contract that is an agreement between a seller and a buyer. As part of the Contract For Difference, one party must pay the other the difference in the value of the asset, which was formed from the moment the contract was signed. In this case, the CFD broker becomes an intermediary between the market and the trader.
In addition to just mediation, the broker provides you with a site with great functionality, which will definitely come in handy when trading:
Minimum entry threshold. Deals from $1 are a great advantage.
Pending stop loss and take orders will allow you to automatically close a trade at the right time, and not sit for hours at the monitor, tracking the market situation.
Video training.
Chats with traders.
Analytics and news on the platform.
Convenient ways to deposit and withdraw funds, etc.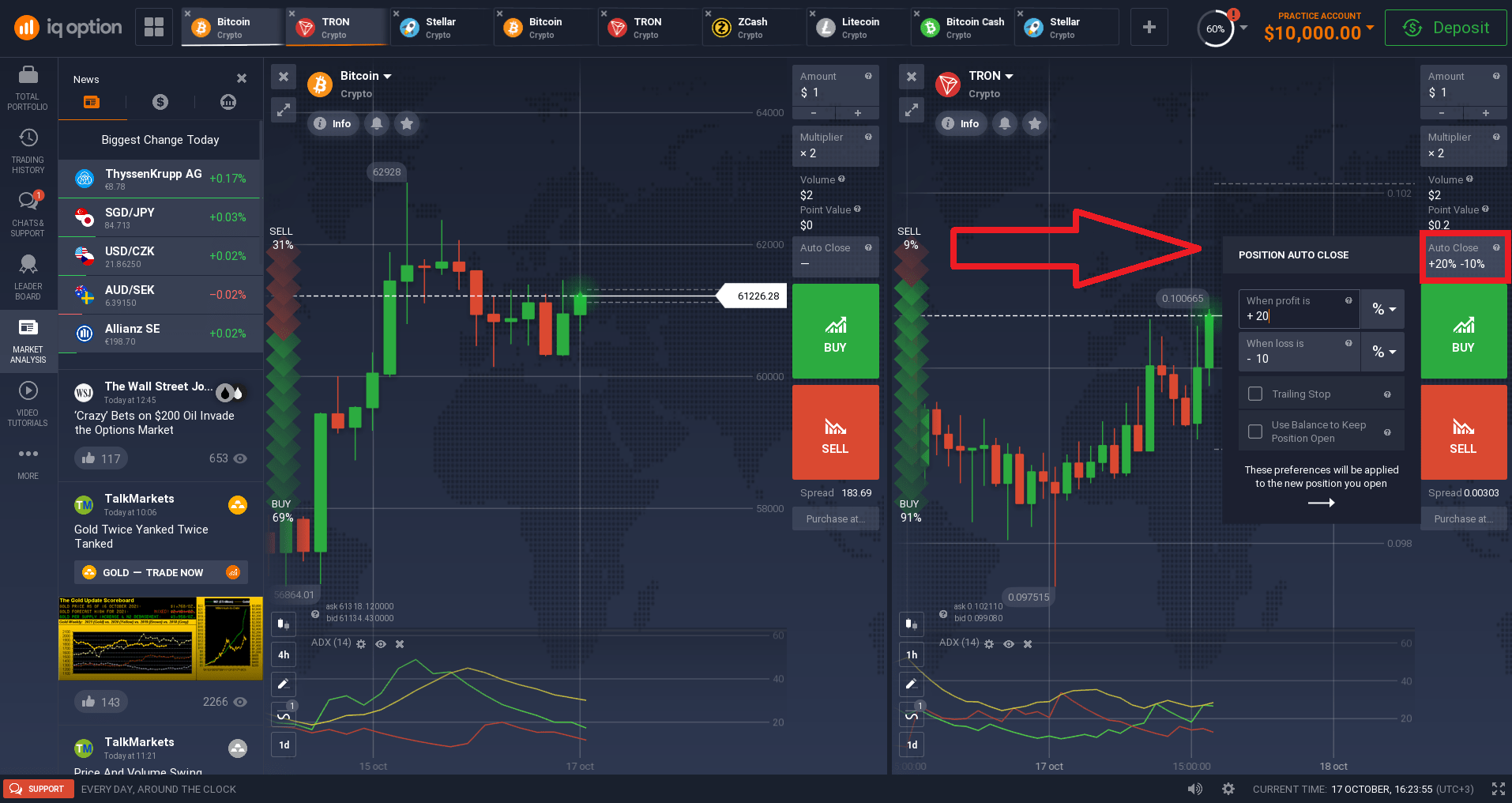 Try it and do not be afraid to take the first step, you do not lose anything, just register and see how convenient it is to work with a broker. In addition, you can buy with CFD not only tokens and digital currencies, but also stocks, fiat currencies, gold, options, etc.
How to start investing in Shiba Inu (SHIB) in the UAE?
So, you can start to invest in SHIBA in the UAE in different ways. Trading and investing on the stock exchange involves buying the asset itself in anticipation of its growth. In this case, you can keep the currency in a cryptocurrency wallet or exchange account.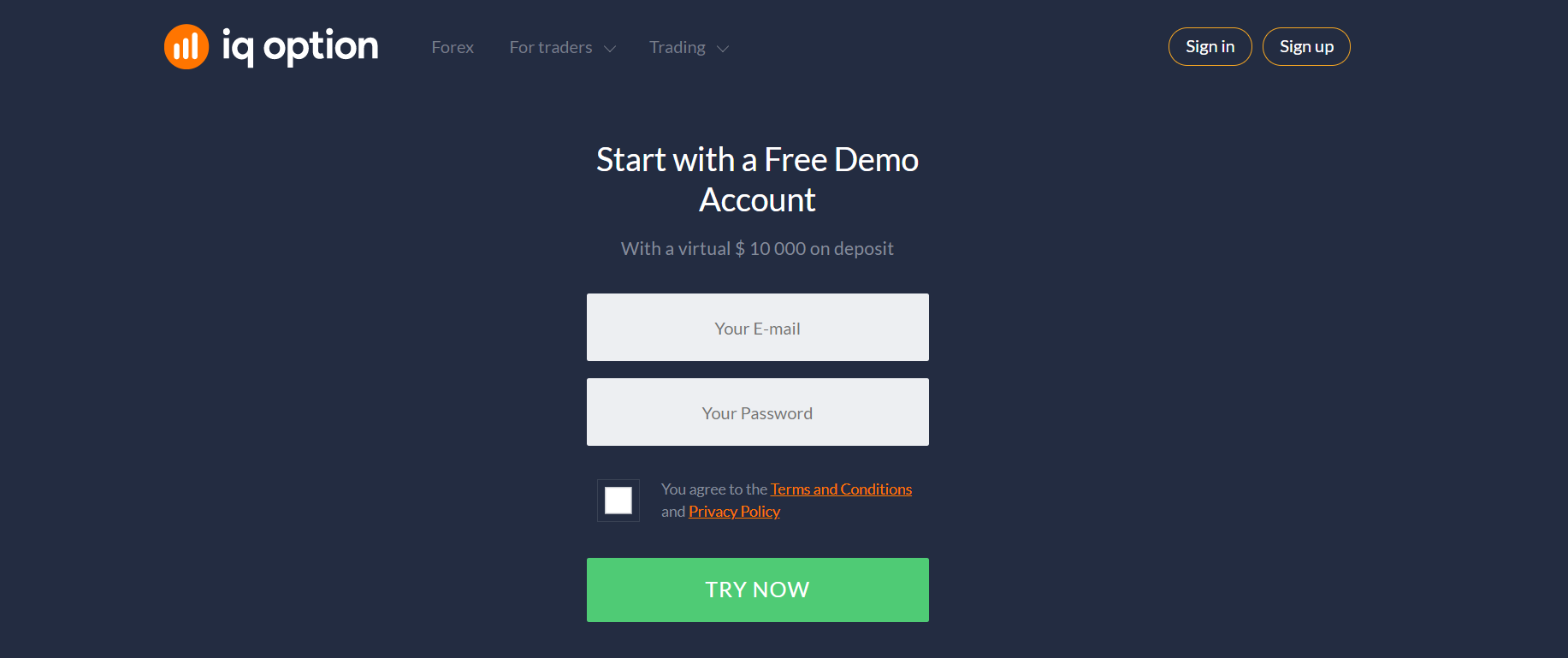 Another way to make money on cryptocurrency is CFD trading. In this case, you can make money both on the growth and on the fall in the exchange rate. You can also track the course on the platform, as the broker offers up-to-date quotes and a live price chart.
If you expect the price to rise, you enter a buy position. If you're right, make a profit. If not, the difference in price, taking into account the size of the open position, will become a loss. If you expect the price to go down, then open a sell position. If the price goes down, you get a profit, if up, you get a loss. You do not need to monitor the market in order to enter a trade at the only suitable moment, you can do it at any time when you can estimate where the price will go.
To start trading on the platform, register and create a personal account. It will take 5 minutes and is completely free. After that, for your convenience, download the application on your PC from the platform's main page. Downloading and further use of it is also free.
Demo account
When you complete registration, the system will offer you to use a demo account. By opening a demo account, you will be able to assess your existing trading strengths and weaknesses, as well as your own strategy and trading method. When you open an account, you will be automatically credited with a certain number of virtual dollars. As a rule, this is a large amount, and it will be enough for you to study on the platform. The best way to learn how to trade without risking your hard-earned money is to practice on a demo trading account.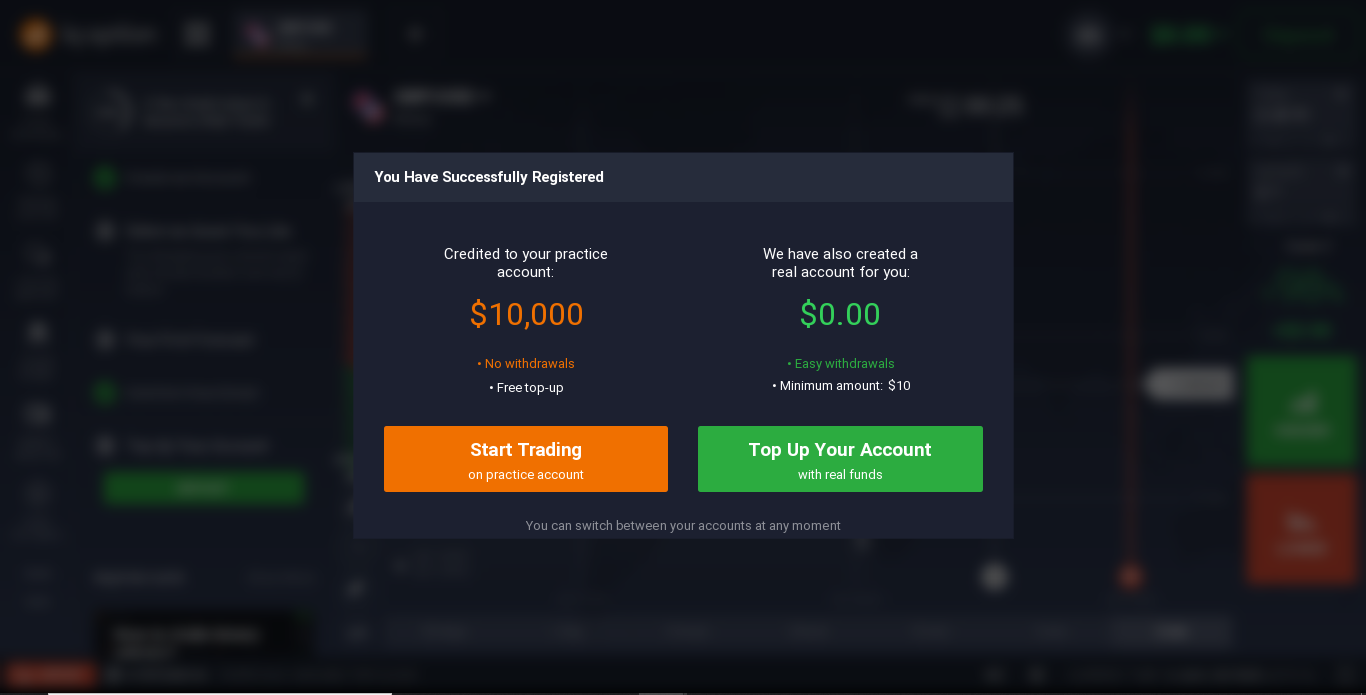 Real account
Once you are ready to start live trading, go to your personal account and select the fund from your account menu. Then choose a convenient method of replenishing your account and make a minimum deposit, usually the broker sets the threshold for the first deposit in the region of $10. You can contribute more at your discretion.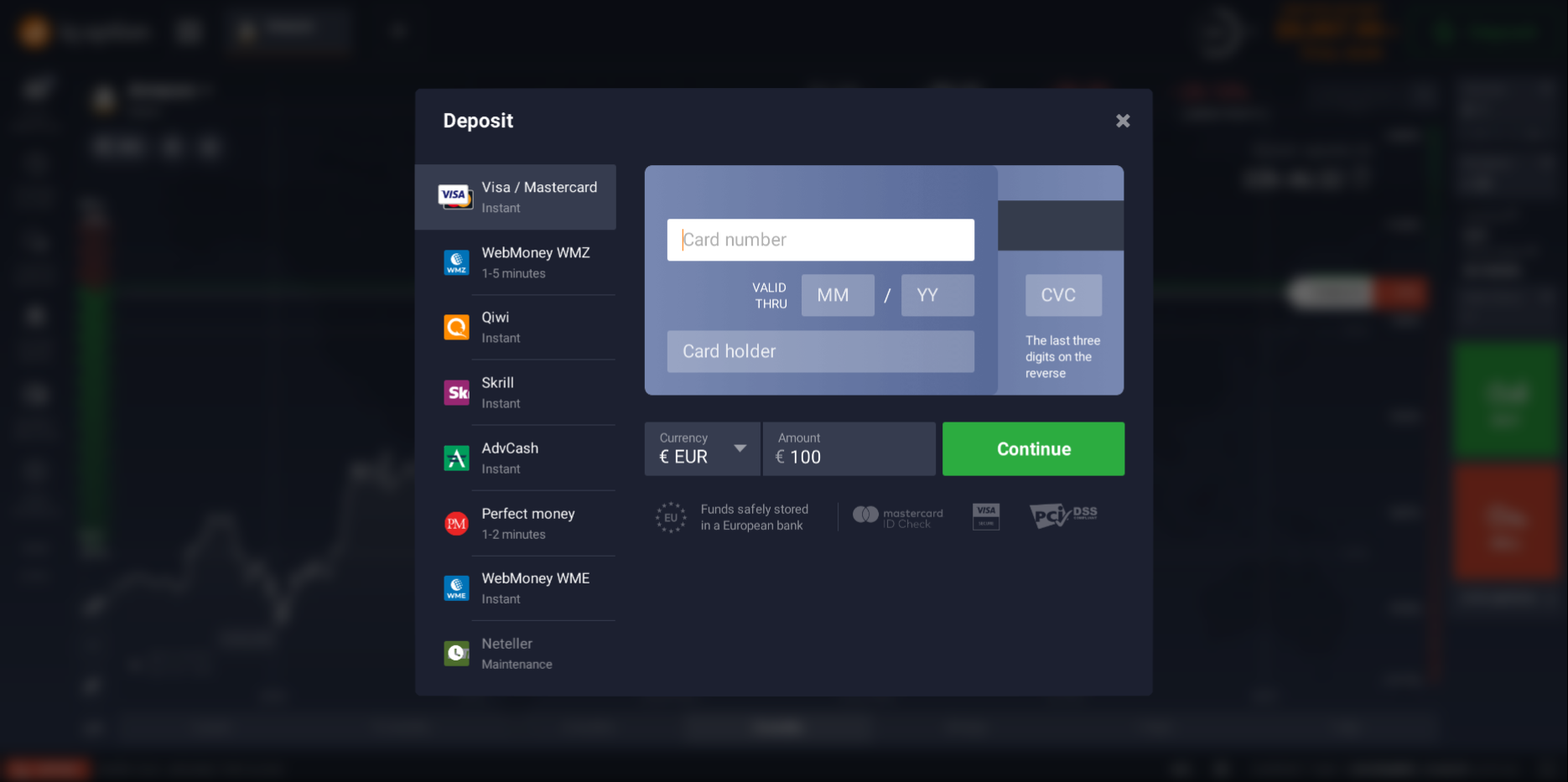 As soon as the funds are credited to the account, you can start trading. You can withdraw profit from the same account to your card. Also, when trading CFDs, use margin trading, which will allow you to trade larger amounts than you have in your account! You can also download the mobile version from the website or Google Play or Apple App Store.
SIMPLE AND RELIABLE
MONEY WITHDRAWAL
SHOW ALL