Electronic Trading Platform in the UAE
What is an electronic trading platform?
To start operating at the stock exchange, you need to open a trading account with a brokerage company. After opening an account, a new trader will be provided with a computer programme - a trading terminal, with the help of which a beginner can make transactions and earn money in exchange trading. In addition to the account, a good electronic trading platform can provide many other functions and make the life of the trader much easier. In this article, we will tell you what trading applications are and what they are needed for.
A stockbroker provides investors with the organizational, legal and technical means to enter the stock market and start buying and selling transactions on the securities market.
So, apart from the trading terminal where your trades take place, once you get on the broker's platform you will be able to make a number of other transactions as well as receive information that will make your trades more successful.
Real Time Quotes
And perhaps the first thing worth mentioning is real-time quotes and news. The currency quotes presented on the page allow the visitors of the financial website to get the most information about the changes in the currency market in a simple way. And for greater convenience, charts are provided to track rates over a period of time. These methods will simplify your work and help you assess risks for safe investments and capital appreciation. With the help of analysis, you can effectively predict the trend of exchange rates going down or up, today, tomorrow and in the longer term.
Remember that the choice of a broker to open an account with can have a significant impact on the future use of the account, as well as the ability to generate a steady income with minimum effort, time and nerves. This matter should be handled with utmost seriousness and attention.
Mobile application
The user-friendly mobile interface is easy to navigate and find what you need. All the investment products available on the brokerage platform are available in the app. In addition, news feeds, calculation of daily financial results, etc. are available. All information about market movements is displayed in real time. Get up-to-date data when it is convenient for you. Now you do not need to wait for a convenient moment for a successful transaction, because the exchange is in your pocket! Download and use!
Manage Your Account
Many online trading platforms allow traders to manage their accounts, funds and settings regardless of experience. You can diversify your portfolio as much as possible because the platform offers you multiple assets to trade. That said, it's very convenient that all of your trades in different assets can be analysed in your personal account. You will be able to use the stop loss and take profit feature. Automate your trading to get the highest possible profit.
Analytical section
In order to make the most profitable trades and not to rely on luck, almost all traders turn to the analytical part of the platform. It includes various tools and features.
Fundamental analysis is a forecasting of movements of quotations on the basis of statistical data, news, events (economic and political).
The economic calendar is a kind of summary of all news from all countries, with their release times and forecasts. First, you have to keep in mind which news will be officially released and when. It is important to take into account time zone differences. Advantages of the economic calendar:
Provides information on what time (day and time), there will be the publication of statistical data in different countries around the world;
Displays data about holidays (national holidays), i.e. information about when stock exchanges are closed;
Ranks the news by their importance and shows a forecast of the report;
It allows you to analyse how a news release influenced the quotation of a particular currency pair.
Technical analysis is a type of analysis that aims to predict future market behaviour on the basis of previous price and volume data. It is widely applied to equities and other assets in the financial markets. The tools of such analysis include a variety of indicators, which you can customize to your needs, data charts, among which the most popular is the candlestick chart.
The basic idea behind technical analysis is that market prices already reflect all the fundamental factors relating to a particular asset.
In contrast to technical analysis, which mainly focuses on historical price data and trading volumes, fundamental analysis uses a broader research strategy with a greater emphasis on qualitative factors. Thus, experienced traders will advise you to combine these analyses for a successful outcome.
Types of assets on an electronic trading platform?
The electronic trading platform can offer you a wide range of assets for trading and investing. Everyone will find something to suit their taste and depending on their experience and free time. Almost every asset can be used for long-term as well as short-term trading.
You should choose carefully and consciously before investing your money. Let us look at the most commonly used assets.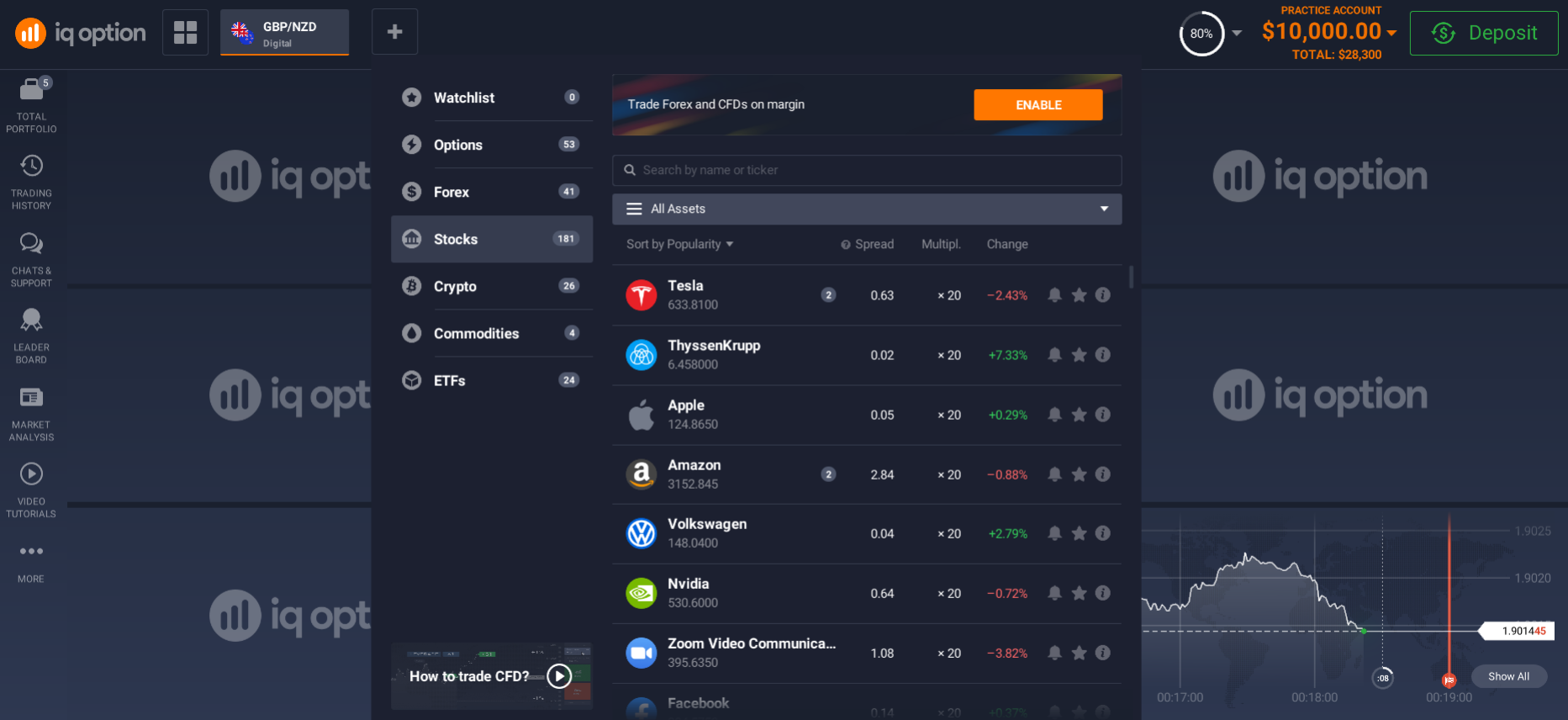 Electronic platform for stock trading
What you can buy on an electronic brokerage platform can include stocks from almost every country in the world. If you have the funds and patience, this can be the perfect investment vehicle. With stocks, you can make money either through dividends or by reselling them if they increase in value.
Therefore, be sure to use analysis before buying a stock. In a stock, this will involve looking at the company's profits and losses, its development strategies, and its statements, all of which can be found on the company's official website or online. You need to invest in large and promising companies.
Electronic platform for forex trading
The foreign exchange market has become increasingly popular over the last decade. In Forex, currency pairs are sometimes called trading pairs, which is fair enough, because they are used to trading, i.e. the exchange of one national currency unit for another. More specifically, buying one for the face value of the other. As is clear from the word "pair", we are talking about two assets that are written down sequentially. The order of the currency in the entry has a conceptual meaning for trading currency pairs.
The currency unit that is recorded first (on the left) is called the base currency.
The monetary unit that is recorded second (standing to the right) is called the quoted unit. This name defines the relationship between the two parts of the record, because the right-hand part is quoted in relation to the left-hand part.
Note that the quotation that comes after the name of the currency pair (the number after the "=" sign) always indicates the amount you have to pay in the quoted currency to buy one unit of the base currency.
Electronic platform for commodities trading
Commodities can provide sustained returns over time. The most popular and most liquid commodities are oil, and precious metals, namely gold and silver. The idea is to correctly predict the rise or fall in the price, which will allow you to profit from the trade. As a trader, you do not usually buy the commodity itself, but a CFD on the exchange. This way you can make money on the price difference, without having to think about physical buying and where to put the oil you have bought, for example.
A CFD is a financial instrument that allows you to trade any of the commodities offered without actually buying them, thus making money only on the price difference.
Electronic platform for ETF trading
An ETF (Exchange Traded Fund) is an investment trust whose shares are traded on a stock exchange. An index ETF follows the structure of an underlying index. One can perform the same operations with ETF shares as with ordinary shares in stock trading. This is one of the advantages of an ETF - transactions in ETF shares can be carried out throughout the trading day and their price changes depending on market behaviour.
In fact, an ETF fund is a new type of security that allows the purchase of a portfolio of stocks, bonds, currencies, etc. at once. If you look at leading stock indexes, like the Dow Jones, S&P 500 or RTS, charts show that they have been rising for years, while stocks of specific companies and even industries have seen their value go up and down.
Electronic platform for cryptocurrency trading
The cryptocurrency trading on the exchange is no different from the usual ones. Anyone can trade here without any intermediaries. All operations, from deposit to withdrawal, the user makes through personal account and exchange website with information and graphs about exchange rates. To make a profit, buying currency at a cheaper price and selling it at a higher price, at the same time trying to minimize possible risks.
Cryptocurrency is an electronic means of payment without a physical expression of form. The basic unit of measure is 'coins'. They are used like traditional money, including storage, transfer to third parties, payment for goods or services.
When you take advantage of products that you can buy through an electronic trading platform, you can benefit from global trends, political events and unexpected news. These events can be an important aspect of influence when it comes to placing transactions in the market. Keep up-to-date with the news feed and economic calendar. Also, analyse the asset using indicators and charts, it is difficult at first glance, but you can always practise using a demo account.
How to start use electronic trading platform in the UAE?
Before you can use the electronic trading platform in the UAE, you must create your personal account. Requires a PC with an Internet connection. Follow the broker's instructions with some of your details. It will take literally a few minutes.
After you have completed the registration, you have the option to open a demo or real account of your choice.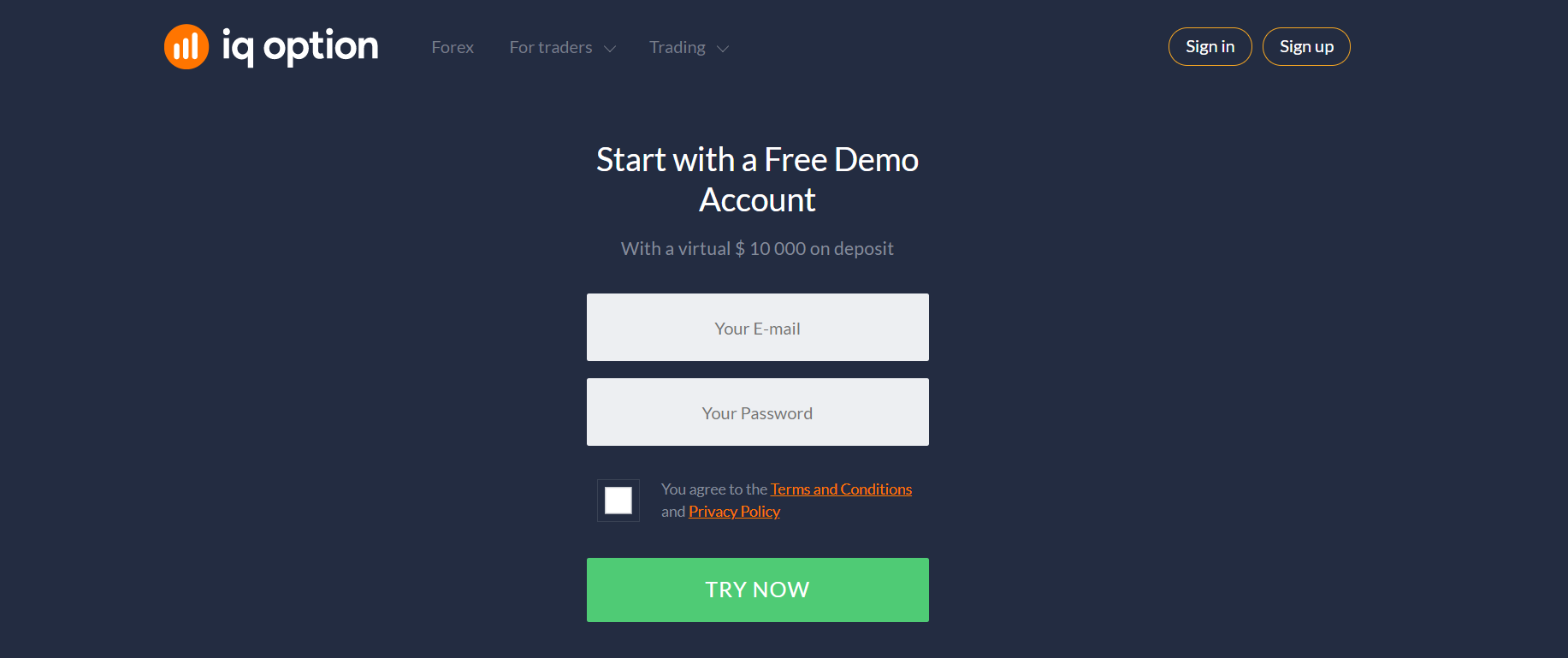 Demo account
The demo account standard allows you to trade and conduct business as if you were using your own money. But here you can learn how to trade using virtual money. Demo accounts are easy for novice investors. But they are also used by experienced traders to test a new strategy.
When you open a demo account, you can pretend to exchange assets on a regular basis - just as if you were actually trading assets. This allows you to understand how assets are valued in the real market and how they react to financial news and other situations that may affect their value. This knowledge is critical to your success as a budding investor.
Real account
You can also open a real trading account right away. Make a minimum deposit and start trading. Start small and follow the rule of risk management - do not deposit more than 5% of your capital in a single trade. Electronic trading platform in the UAE allow you to trade multiple assets and this makes it easier for you to diversify your investments.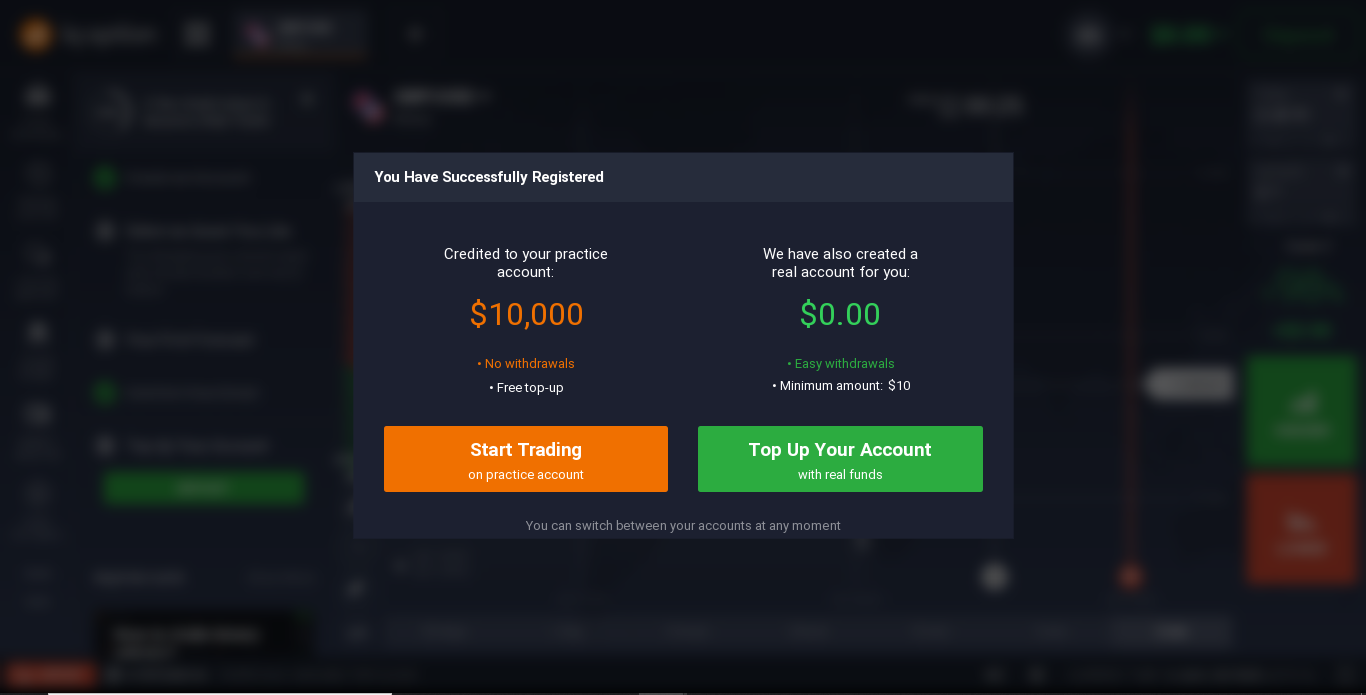 Among other things, you can use leverage. Leverage is a term that denotes the ratio of the trader's funds used in trading to the borrowed amounts taken from the broker. This is a kind of financial leverage or a broker's service, which makes it possible to trade with funds many times higher than the amount in the trader's account. The borrowed amount exceeds the trader's deposit volume by a certain number of times (5, 50, 100, 200, 500, 1000) - this value displays the leverage.
One of the most important things when entering stock trading is to have a fundamental knowledge of the stock market and trading on it. It is important to educate yourself in the basics of stock trading in order to profit from this investment that you are making. Good luck with your trading!
SIMPLE AND RELIABLE
MONEY WITHDRAWAL
SHOW ALL