Today's article will be useful both for beginners and for experienced traders who would like to earn on the online trading platform. Trading tournaments appeared not so long ago and have already managed to be loved by traders, because for a small fee you have an opportunity to participate in IQ Option tournaments and earn big money prizes.
What are IQ Option tournaments?
IQ Option tournament is a traders' competition in which each registered user of the platform can participate. Each participant gets a tournament account with the same amount of money. Besides, there are no rules: you can trade any asset using binary options and invest any available funds from your tournament account.
The winners are the traders who have more money in their tournament account. The prize pool is usually divided between the top traders who have made it to the top.
Why participate in tournaments?
To earn real money if you have no or little deposit money.
Gain extra motivation for everyday trading.
Compete with other traders.
Test your strategy for a small amount of money.
It helps to diversify your trading activity.
This will give you new trading skills and experience
How to participate in an IQ Option tournament?
All traders can participate! If you get tired of the usual trading sessions, you can distract yourself and earn money in tournaments. It is very easy to take part in them. The IQ Option tournament rules are accessible and transparent, so both beginners and professionals may participate. All you need to do is register for a tournament, wait for start of the tournament trading. It is most convenient to trade in the IQ Option desktop version.
Because trading is based on binary options, you'll need to be familiar with them and if you haven't tried them out yet, then be sure to practice on our free demo account. To do so, you'll have $10000 and all the tools of the platform. To open a demo account, sign up for an account on the platform, and it will open automatically. It's easy, try it out!
Registration
To sign up for the tournament follow our step by step guide and you could end up with prize money in your account today.
Step 1: Register on the platform.
The first condition of participation in the tournament is that you have to have a personal account in IQ Option trading platform. If you have one, then authorize in your application or use the button below. If not, you can register with the same button, in 1 minute absolutely free.
You will need to fill in your email, password and confirm your registration with an email that will be sent to you. Also read the platform rules and privacy policy. After registering you will be given a demo account for $10000 for your training, take advantage of it!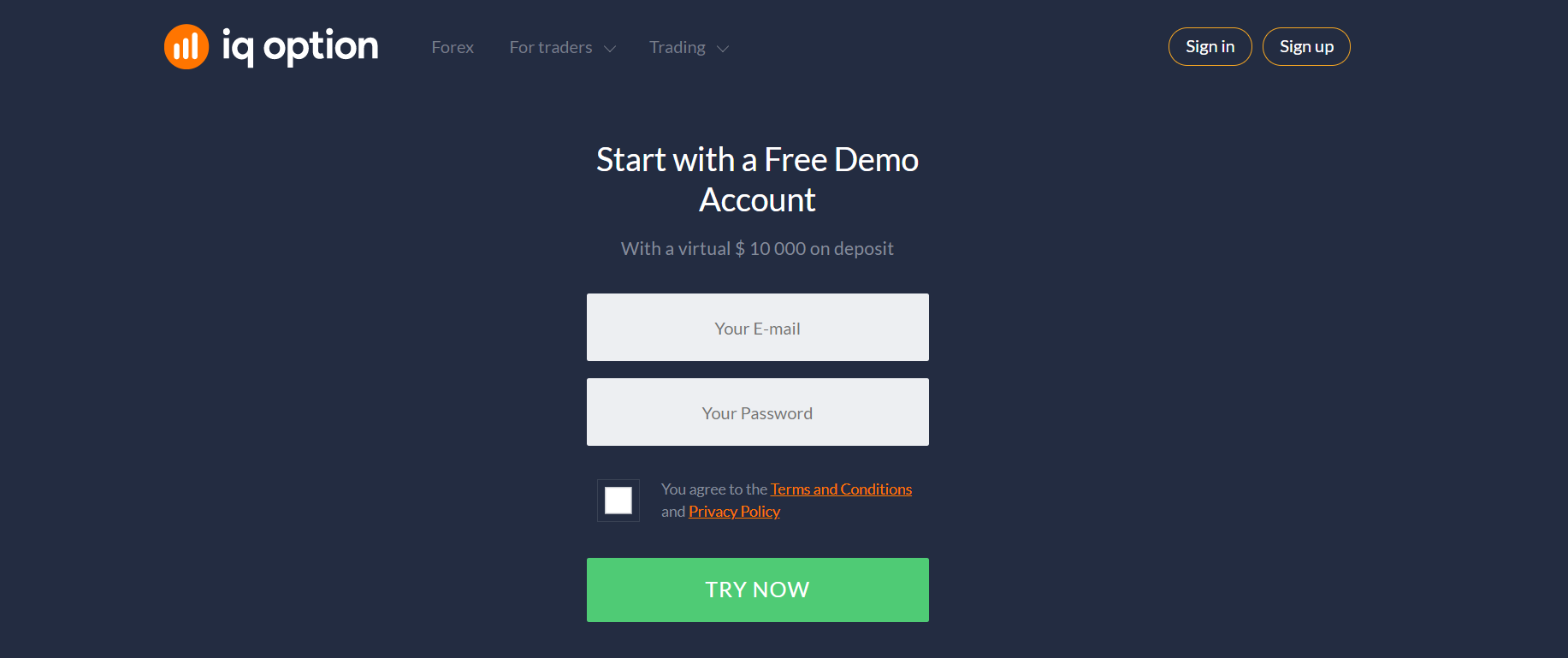 Step 2: Fund your account.
In order to be able to pay the tournament entry fee, you need to have the required amount in your IQ Option account balance. The tournament entry fee is usually between $2 and $10. Depending on the conditions of the tournament, of course, this amount may vary. You can replenish your account in your personal cabinet by selecting the "replenish account" menu. The minimum deposit amount is just $10. This is a convenient amount, which will allow you to start your career with IQ Option without much risk.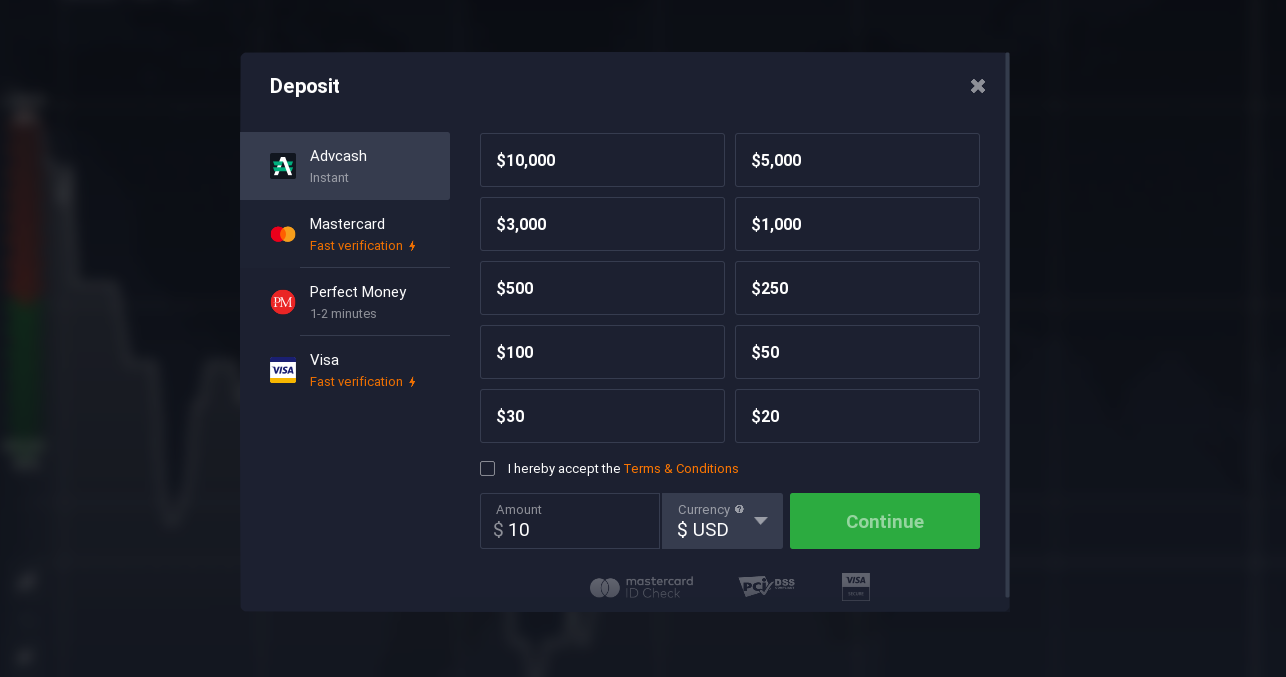 Step 3: Find the tournaments menu.
Once you have registered and logged on to the platform go to the left panel of the platform and select the "tournaments" menu as shown in the image.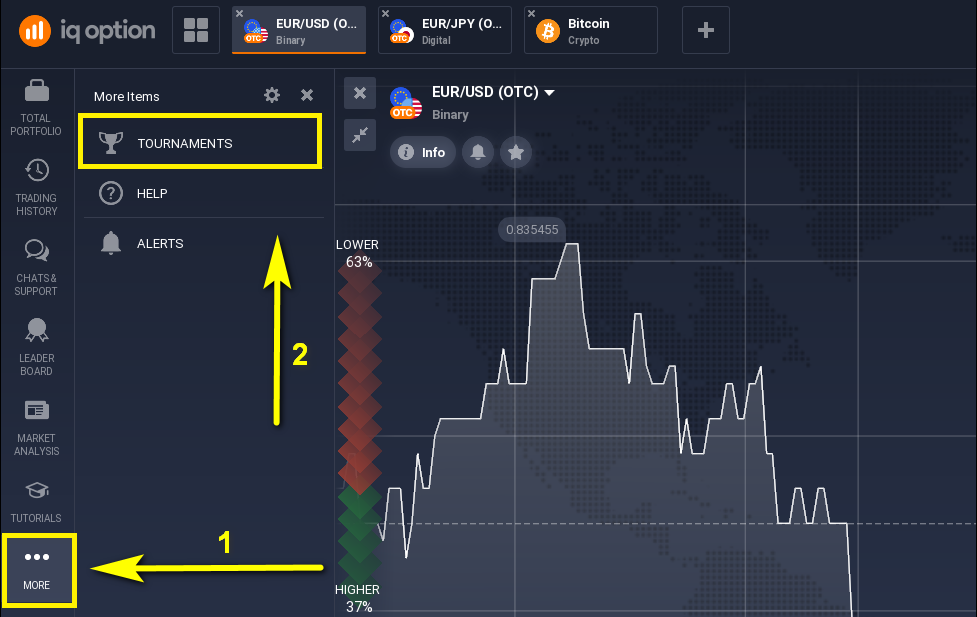 Step 4: Choose a tournament.
In the list you will see tournaments that are running now, tournaments that have already finished and also upcoming announcements. Choose from current or upcoming tournaments the one you are most interested in. You can choose several tournaments or one of your choice.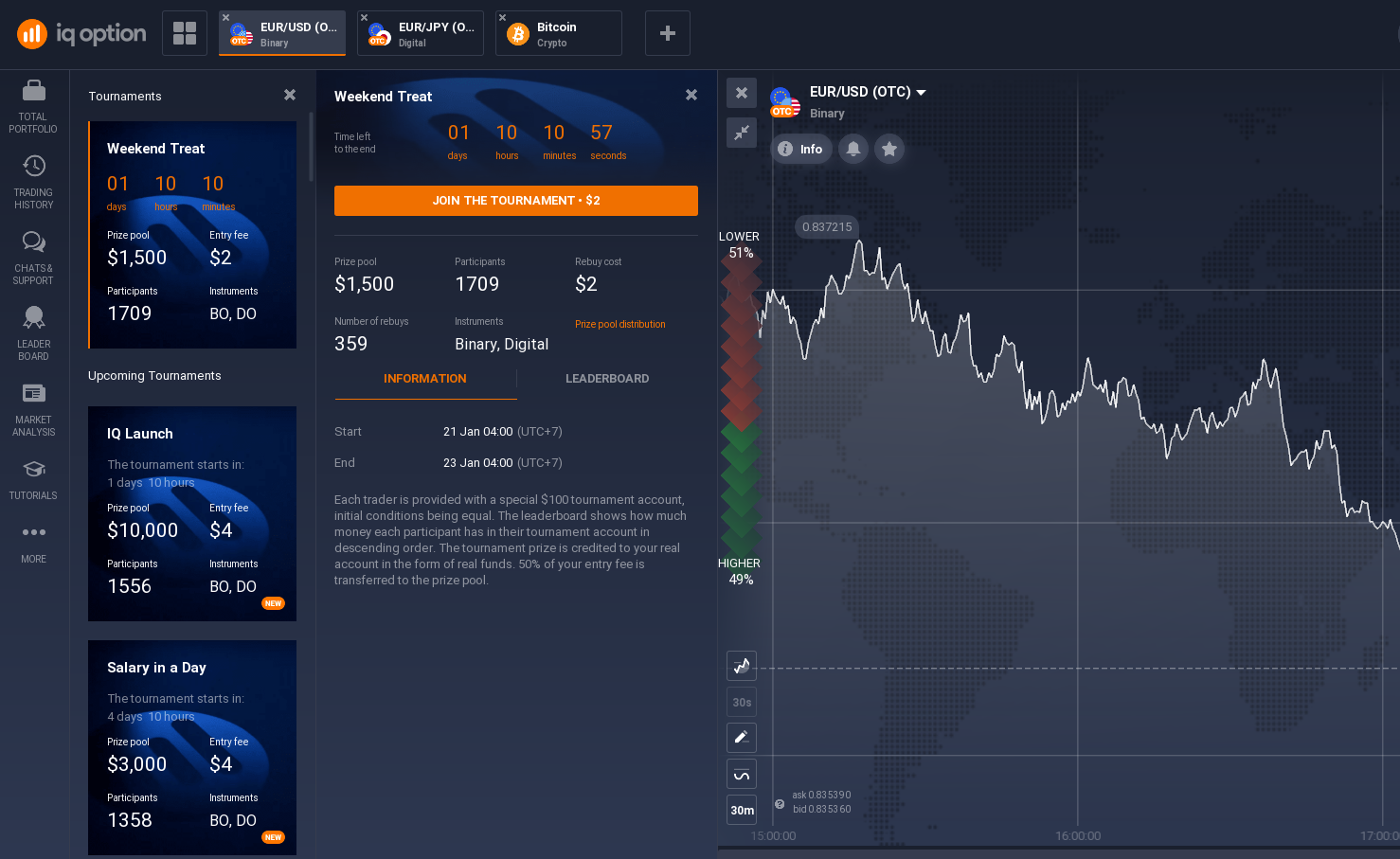 Step 5: Register for a tournament.
There is an orange button next to each upcoming or current tournament. It will say "join a tournament" in case it has already started and "register" in case it hasn't started yet. Click on the button to become a participant and take your chance at winning a big prize!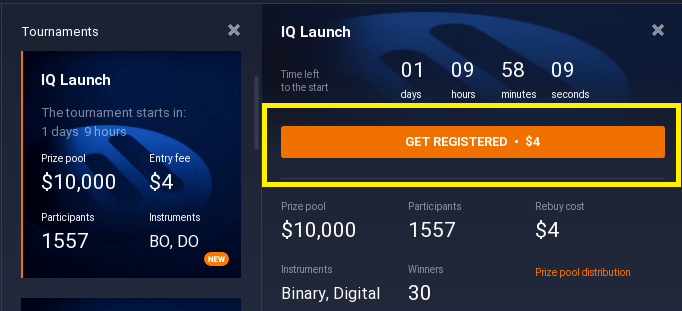 IQ Option tournament rules
Now we are going to go over all the rules. They are very simple and traders usually have no questions.
The participation fee. Tournaments can be free or for a fee. We have already mentioned that the cost of taking part in a paid tournament may vary and start at about $2. Below we will show you some examples of tournaments and you will be able to see that the fee is really low and affordable for any trader. The conditions of each contest state the amount of contribution. This fee will be deducted from your real account as soon as you click on the orange "join tournament" button and start registering.
All tournament participants are equal. When the tournament starts a special tournament account will be opened for each participant. In this account you will trade during the whole tournament. The same starting balance will be deposited in this account. Usually it is $100 or more. Therefore, initial conditions being equal and everyone has the same chances to win. You may invest any amount of money in your tournament trades.
Tournament money cannot be withdrawn. Everyone should know an important thing, that you need the money credited to your tournament IQ Option account only for trading in a contest. You cannot transfer it to a real account or withdraw it to your bank card. This money will appear in your account at the beginning of the tournament and will be void at the end of the tournament.
Rebuy. This feature is useful if you need to replenish your current balance on tournament account. That means, if your tournament account has fallen below its original balance, you can re-buy it for a few dollars (see tournament rules for exact value) and continue to compete for your prize.
Available Assets. Frequently Asked Question: what assets can I trade? When you participate in a tournament, you are allowed to trade all of the assets in the binary options and digital options tab. You may also use all sets of technical tools to analyze your trades. For instance, use a variety of indicators (for example Bollinger Bands, MACD, stochastic oscillator or any awesome oscillator) and charting tools, and change the chart type to make your trades handy.
Prizes
The prizes in tournaments are cash. Usually the prize pool starts at $1500 and can reach several tens of thousands of dollars. Also the amounts of all rebuys that participants make during the tournament are added to the prize pool.
After tournaments end the prize pool is distributed among top traders, mainly among the first ten participants. But there are tournaments with 30 winners! Hence, your goal should be to be among the top participants. The person who earns the most money in the tournament account gets the largest share of the prize. However, this is not a fixed amount. You will be rewarded according to the amount of money you earn in your account. That is, the more money you have in your tournament balance, the bigger the prize. But remember that trading is always a risk and you need to try hard to win. The official website of IQ Option always gives traders a general risk warning. Trade efficiently and wisely!
If you ended up among the winners then the prize money will be credited to your real account as real funds. You can invest money in real trades or withdraw them at your discretion.
Leaderboard
Obviously the Leaderboard shows the position of the participants in the tournament. A great feature is that you can see in real time which traders are competing against you and how they are earning. So you're always in the know and can adjust your strategy in order to become a leader. At the beginning of a tournament you can also see a table with randomly chosen participants, for an example of how the prize money will be distributed.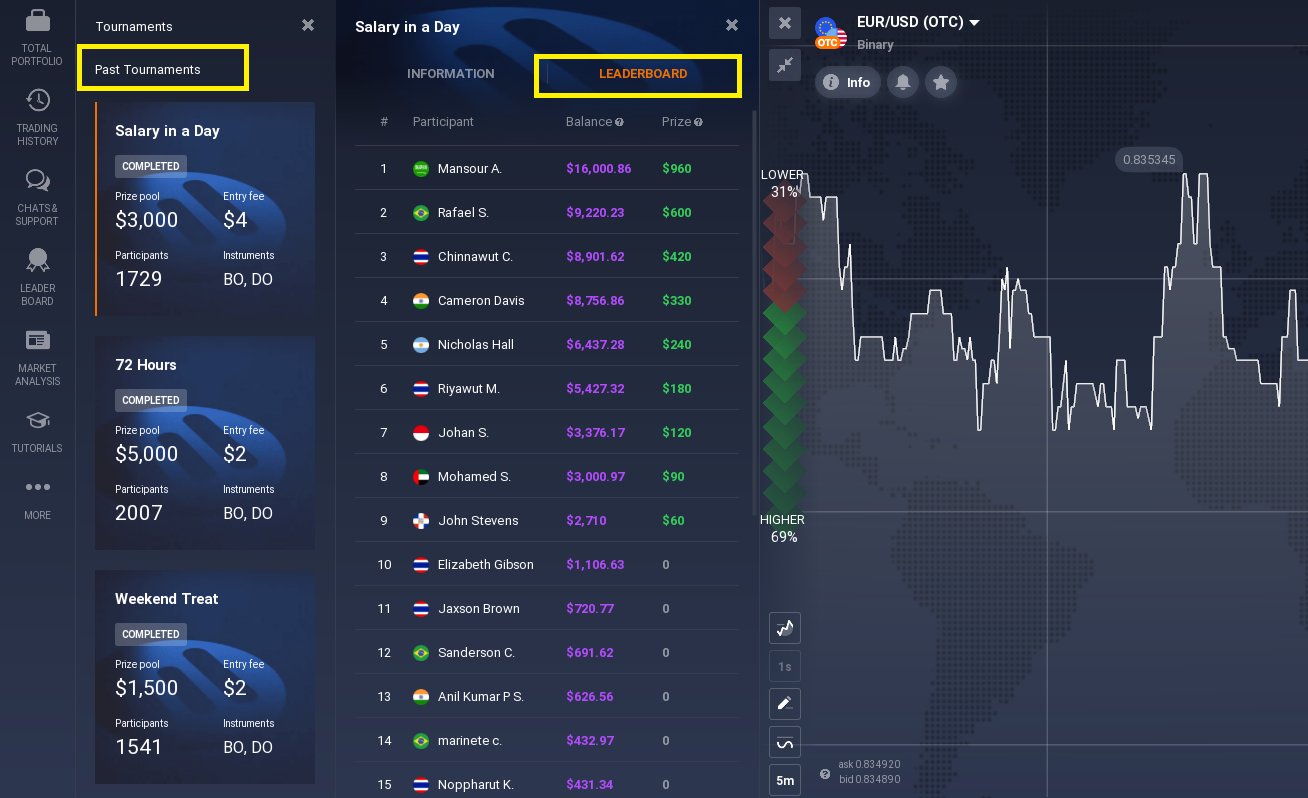 List of IQ Option tournaments
In all the time the tournaments have been running, a huge number of people have taken part. Each time there are more than 1000 people in one tournament. There may be regular tournaments, there may be special tournaments dedicated to an event such as a football championship or a holiday, sometimes there are long tournaments for the whole month. In general, follow the announcements and you will enjoy the excitement and trading!
72 hours
In the 72 hour tournament, everyone will receive $100 to their tournament account. The prize pool of $5000 + rebuy is split between the first 15 players with the highest balance. This is a popular tournament as it is fast, the buy-in is only $2 and the prize pool is great!
Duration - 3 days
Prize fund - $5,000
Participation fee - $2
Rebuy cost - $2

Big Catch
A huge prize pool of over $100,000 is split between 30 participants! Each participant is initially awarded $10,000. This is a great chance to win a decent amount for a small entry fee!
Duration - 1 month
Prize fund - $134,000
Participation fee - $20
Repurchase cost - $20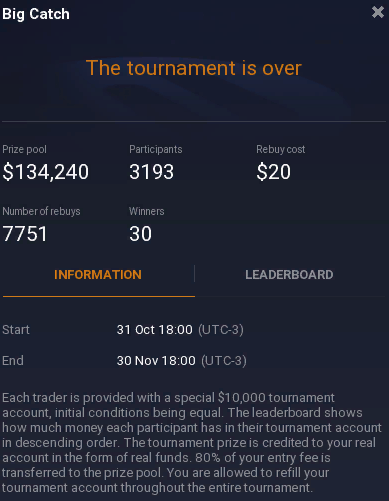 Big, Bad, Binary
Each registrant is awarded $100 to trade in the tournament. The top 15 traders will share in the prize money. 80% of all traders' contributions are transferred to the prize fund.
Duration - 12 days
Prize fund - $20,000
Participation fee - $5
Repurchase cost - $5
Binary Boss
Each participant receives a rather large sum of 10.000 USD to participate in the competition, which is definitely enough for many trades! The prize pool is also impressive. the tournament doesn't take place very often, so once you see it in the announcement, don't miss your chance!
Duration - 1 month
Prize fund - $50,000
Participation fee- $20
Rebuy cost - $20
IQ Launch
Each participant will be credited with $100. The prize money is distributed to the top 30 participants with the highest balance. IQ Launch tournaments take place quite often and you have the opportunity to sign up now!
Duration - 7 days
Prize fund - $10,000
Participation fee - $4
Repurchase cost - $4
Market Pulse
Traders will see $100 in their tournament account. Many players have a chance to win: 30 participants will share the prize. The tournament can be classified as a long-term one, as it runs for 21 days. You don't have to trade every day, you can make a great balance quickly and then just wait for the results to come in.
Duration - 21 days
Prize fund - $10,000
Participation fee- $10
Rebuy cost - $10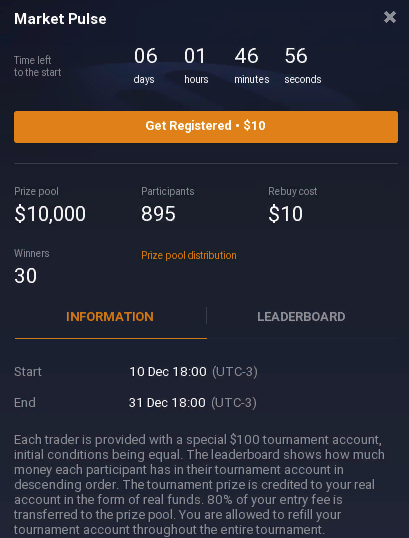 Salary in a day
It is an example of a one day tournaments. This is a frequently held tournament. In it, each trader receives the standard $100 per account. 75% of the entry fees are transferred to the prize fund. The prize is divided between the first 9 participants. You can increase your tournament account with rebuys throughout the tournament.
Duration - 1 day
Prize fund - $3,000
Participation fee - $4
Repurchase cost - $4

Trick or trade
The Helloween tournament is an example of a special tournament. You can take part in it in October and either for a fee or for free. Make your trading more special!
Duration - 15 days
Prize fund - $15,000
Participation - $4
Rebuy cost - $4
and
Duration - 15 days
Prize fund - $2000
Cost of participation - free of charge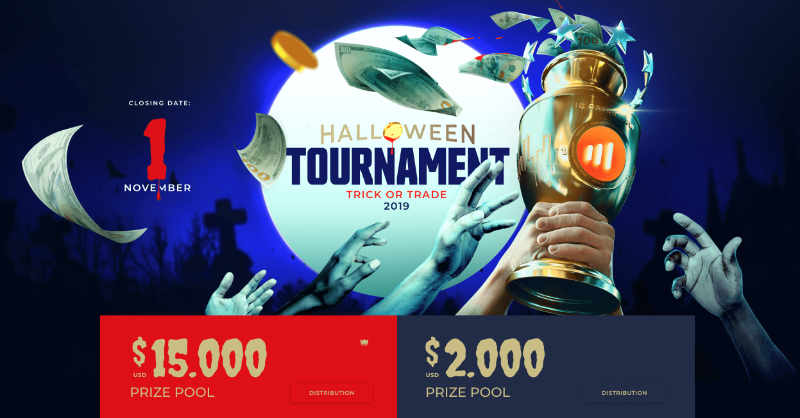 Weekend Treat
The starting amount in each participant's account is $100 as standard. The first 5 participants receive a fixed prize of $300. This is one of the few tournaments where the prize is the same for all. This is a very frequent tournament and you might want to check it out now. You can refill your tournament balance if necessary with an unlimited number of rebuys.
Duration - 2 days
Prize fund - $1 500
Participation fee - $2
Repurchase cost - $2

FAQ
What assets can be traded in tournaments?
Financial products offered by the company will please you with a choice. You can trade any asset on the binary options tab. These can be stocks, commodities, cryptocurrencies, indices and forex trading.
Why can't I access my tournament account?
It's probably because the tournament hasn't started yet. If you are sure that this is not the case, please check if you are registered in the tournament. For example you can write to technical support or go to the tournaments menu and check if the "register" button is active.
How do I cancel my participation in the tournament?
It is technically impossible to cancel participation in the tournament.
How do I reapply for the tournament?
If you are already a participant in the tournament, you will not be able to re-apply. You can go to the tournaments menu and choose the option you like.
How do I check my position in a tournament?
Track your position with the leaderboard. It maintains an account throughout the entire tournament.
How to win a tournament?
Everyone has a different strategy and it is up to you to decide how to trade. Here are some points you can take note of. Your goal is a large balance in a short timeframe. Maybe your tactics should be made more aggressive and make bigger bets and monitor the short trend. Trade during tournaments is usually more exciting and intense than your usual trading, so prepare mentally.
How do I get my tournament prize?
It's very easy to collect the prize. The prize will be credited to your real account in your currency automatically, once the tournament is over and the results have been totalled. This usually only takes a few minutes.
SIMPLE AND RELIABLE
MONEY WITHDRAWAL
SHOW ALL